AIA East Tennessee Design Award Winners
What are the Design Awards?
To recognize excellence in architecture, AIA East Tennessee conducts an annual juried Design Awards Program. This program seeks to honor built and unbuilt works of distinction designed by AIA members in East Tennessee and to serve as a catalyst for local participation in the AIA Tennessee Awards Program. The program also brings public attention to outstanding examples of architecture; cultivating an ongoing public interest in architectural excellence. Winners of this year's program will be announced and celebrated at the 2023 Design Awards Gala on September 28th at Jackson Terminal, displayed on the website, and in the membership newsletter. This competition is open to all members of AIA East Tennessee.
2023 Design Awards Jury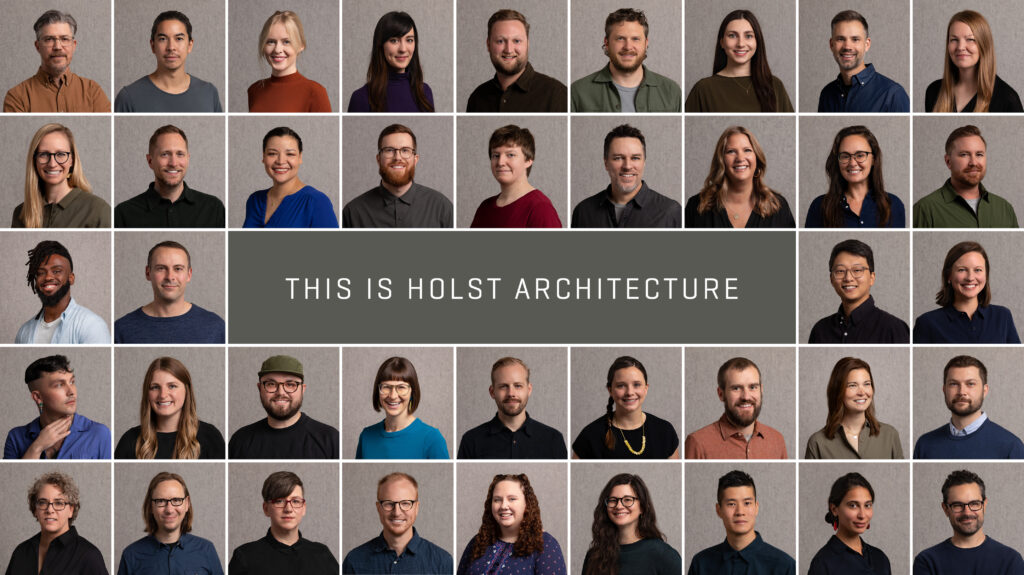 This year's Design Awards will be chaired by Kim Wilson, AIA and Kevin Valk of Holst Architecture. A women-owned firm based in Portland, Oregon, Holst's thoughtful and progressive body of work has led to numerous National recognitions including the AIA COTE Top Ten Award and, most recently, the 2023 AIA Housing Award. With projects at every scale, a clearly defined value system and an open and collaborative approach has governed their design methodology. With their commitment to this internal collaborative process, the Jury members accompanying Kevin and Kim will be a collective from the firm itself. We look forward to the varied perspectives and voices reviewing our Chapter's work for this year's 2023 Design Awards.
2023 AIA East Tennessee Design Awards Jury Chairs
2023 AIA East Tennessee Design Awards Jury Coordinator and Jury Witness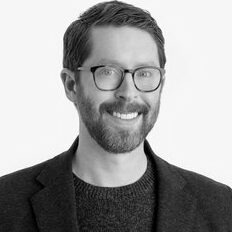 Cameron Bolin, AIA– 2023 Jury Coordinator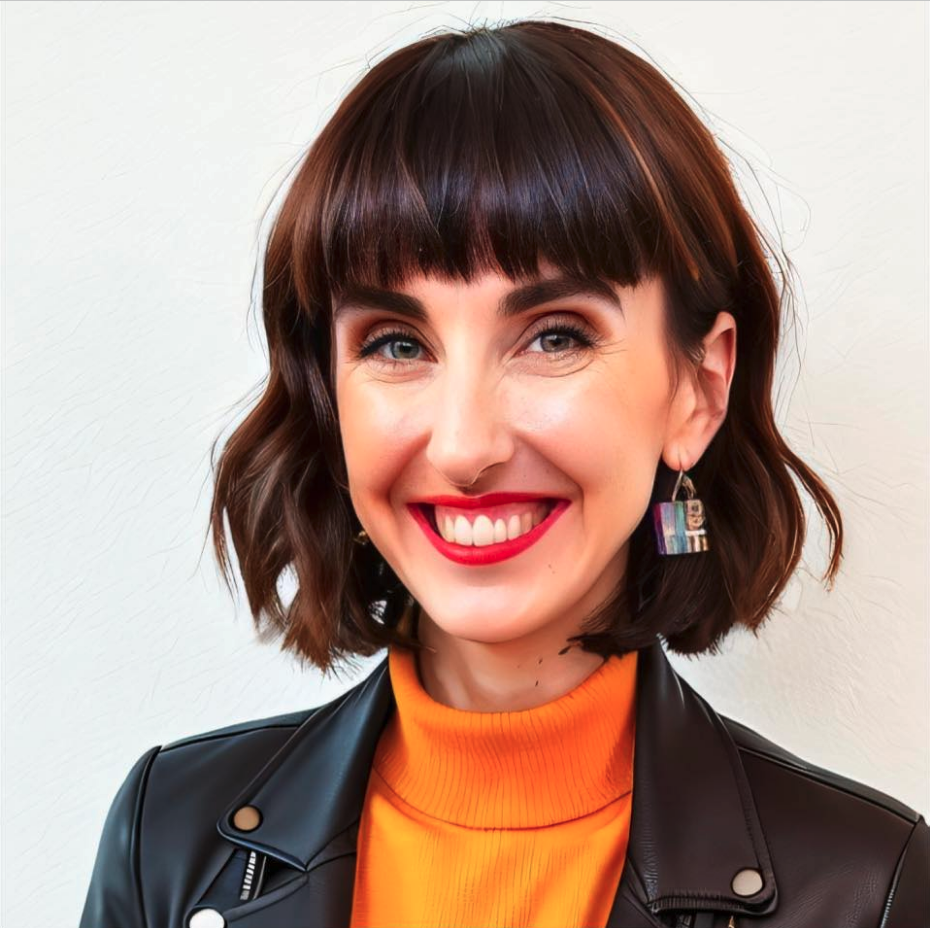 Jen McMahon, AIA ETN Executive Director- 2023 Jury Witness
---
How to Enter
Submissions are now CLOSED for the 2023 year. CLICK HERE to view our submitted projects for 2023.
To register a submission:
1.   Submit the Registration Form and Entry Fee by the deadline, August 11th at 5 PM.
2. Once the registration form and entry fee have been submitted, please follow the link below for Design Awards Submission.
3. All electronic submission materials must be received by August 11th at 5 PM. Entries not following the submission guidelines outlined below will not be accepted.
4. Click here for an example page of completed submissions. This is how the submission will be viewed by the jury with all identifying information removed.
5. View our video below to see how to submit a project for our upcoming design awards.
---
Eligibility
Any architectural project completed since 2017 which has been produced by, or in collaboration with, a member of AIA East Tennessee Chapter is eligible for submission. Projects may have been executed anywhere in the United States. Firms are encouraged to submit previously submitted past non-winning projects as well as those that have won awards in other programs. The Design Awards Program is open to architectural projects of all types, including unbuilt work. An entry may consist of one building, a related group of buildings forming a single project, or an interior design project. The term "building" includes any new architectonic composition as well as the remodeling, rehabilitation, and/or preservation of existing structures. Unbuilt work prepared for academic purposes may not be submitted.
---
Awards
Awards will be designated by a jury of architects whose work and reputations have been nationally established. The 2023 Jury Chairs , Kim Wilson and Kevin Valk, are Owners and Principals of Holst Architecture in Portland, OR.
Each project will be judged according to its own merit and how well it resolves the problem(s) addressed. Projects should also demonstrate the AIA national commitment to sustainability, resilience, and inclusivity as detailed in the AIA Framework for Design Excellence. Projects will not be judged in competition with each other, but by measuring the architect's performance against each project's potential. Design Awards can be given in three degrees: Honor, Merit, and Citation. Honor Awards, the top honor, will be granted to built projects for overall design excellence. Merit Awards will be granted to built projects worthy of recognition because of their design quality. Citation Awards will be granted at the discretion of the jury. In addition, highlighting the importance of sustainable design, the jury may select award winners to also receive a commendation for sustainable design at their discretion.
---
Classifications
For clarity, please designate the general classification of the submitted project from the following:
New Construction
Renovation/Restoration
Residential
Architectural Interior Design
Emerging Professionals
Unbuilt
When a project could be described by more than one classification, it is the entrant's obligation to make the most appropriate choice. Jurors are not obligated to provide awards for each classification.
Emerging Professionals and Young Architect classification: To be eligible for this classification, project entries must be led by an Emerging Professional or a Young Architect. The intent of this classification is to encourage participation and acknowledge the contributions of our members from graduation through the first 10 years of licensure. Project entries may be built or unbuilt projects. This classification gives a discounted entry fee.
Unbuilt classification: Projects that are not yet or never to be constructed may be submitted under the Unbuilt classification.This includes projects that are on the boards, conceptual/theoretical in nature, and competition entries. If later constructed, projects entered in this classification may be submitted for future consideration by the Design Awards Program even if they have previously won an award in the Unbuilt classification.
Unbuilt projects will only be eligible for Merit Awards.
---
Submission Guidelines
Please follow the link above "Submission Form" for complete details on how to submit. This link will also be what you use to make your awards submission.
---
Popular Vote Awards Categories
Every project submitted for the 2023 Design Awards will automatically be entered into the annual People's Choice and Chapter's Choice Awards. Learn more about each award below, and cast your vote!
2023 People's Choice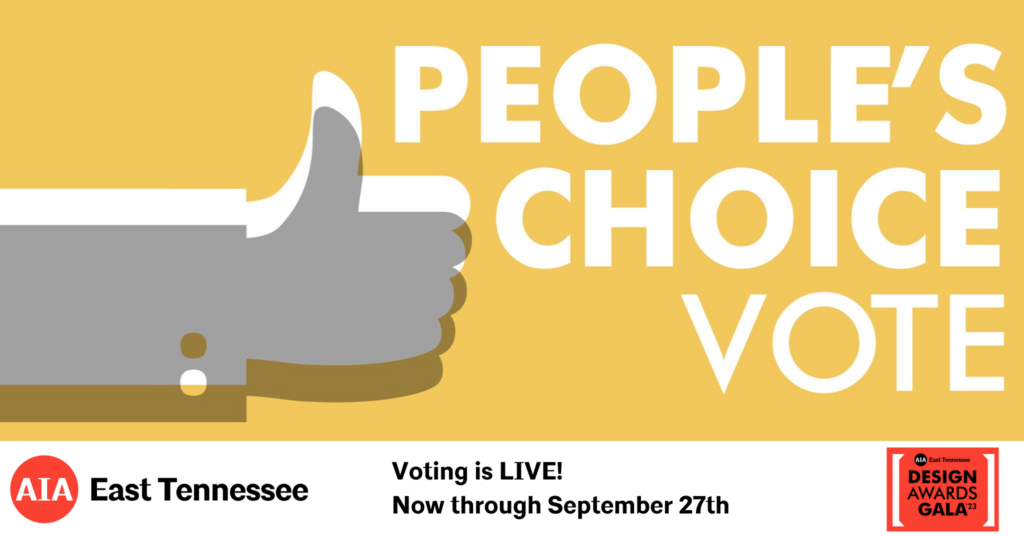 Don't miss the chance to vote for your favorite project for AIA East Tennessee's 2023 People's Choice Award! Whether you're an AIA East Tennessee member or a member of the general public, you are eligible to vote. Hurry, voting closes on September 27th at 11 pm. Remember, only one vote per email per day is allowed. For more details on each project, click here.
2023 Chapter's Choice
Only AIA East Tennessee Members can vote for our Chapter's Choice Award. Voting occurs at the gala. The voting link will be available on September 28th, 2023 from 5:30pm-7pm!
---